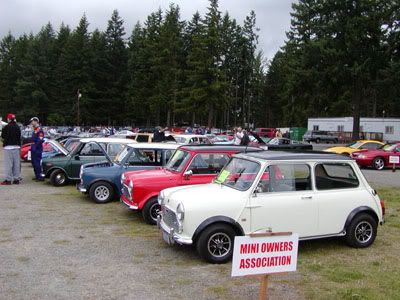 The Society of Vintage Racing Enthusiasts is celebrating the 20th running of the Northwest Historics at Pacific Raceways on July 4, 5 and 6. SAMOAns are invited to display their Minis in the Car Corral (for 1, 2 or all three days), wander the paddock area, watch some sensational vintage racing and take parade laps of the circuit (on Saturday and/or Sunday).
One-day passes (Friday, Saturday or Sunday) cost $25 for a car and driver. One-day passengers also pay $25, except for kids 7 to 16, who pay $5. Three-day passes cost $40.
This year, the $5 event programs are not included in the cost of admission.
Still, it's a great event for a great cause (proceeds go to Children's Hospital), so e-mail me at heyberglund(at)comcast.net if you're interested. Because we have to enter on one form, and because the Car Corral entry deadline is June 15, I'd like to make arrangements fairly soon. Drop me an e-mail.
Dan