After nearly a week on the road, I think I've sorted out my netbook and wi-fi problems. Hopefully, I can keep these reports and photos coming.
Chuck, Jerry and I are in Kankakee, Ill., tonight. It's been an interesting trip, at times exciting and at others boring, but I have some time tonight to share a few photos from our travels so far.
We left Friday morning, setting out over Chinook Pass and driving into Eastern Washington past Yakima and the Hanford Reservation. Here we're stopped on the other side of the Columbia (that's the Vernita Bridge in the background). This is where I jammed my ignition switch and we lost about 30 minutes while I tore down my steering column to fix it,
Highways 261 and 12 between Kahlotus and Lewiston were loopy and sweeping and lots of fun. We stopped for a break at Lyons Ferry on the Snake.
After spending the night in Lewiston, Idaho, we headed for Montana. But before jumping on Highway 12, we took a run up the old Lewiston Grade, now called the Spiral Highway. I drove it many times in the 60s and 70s, but it was an entirely different experience in a Mini. Google it or search for it on YouTube. It's an incredible collection of heart-stopping switchbacks. I shot some photos from above, but they don't do the hill justice. Instead, here's a shot of Chuck catching his breath at the top.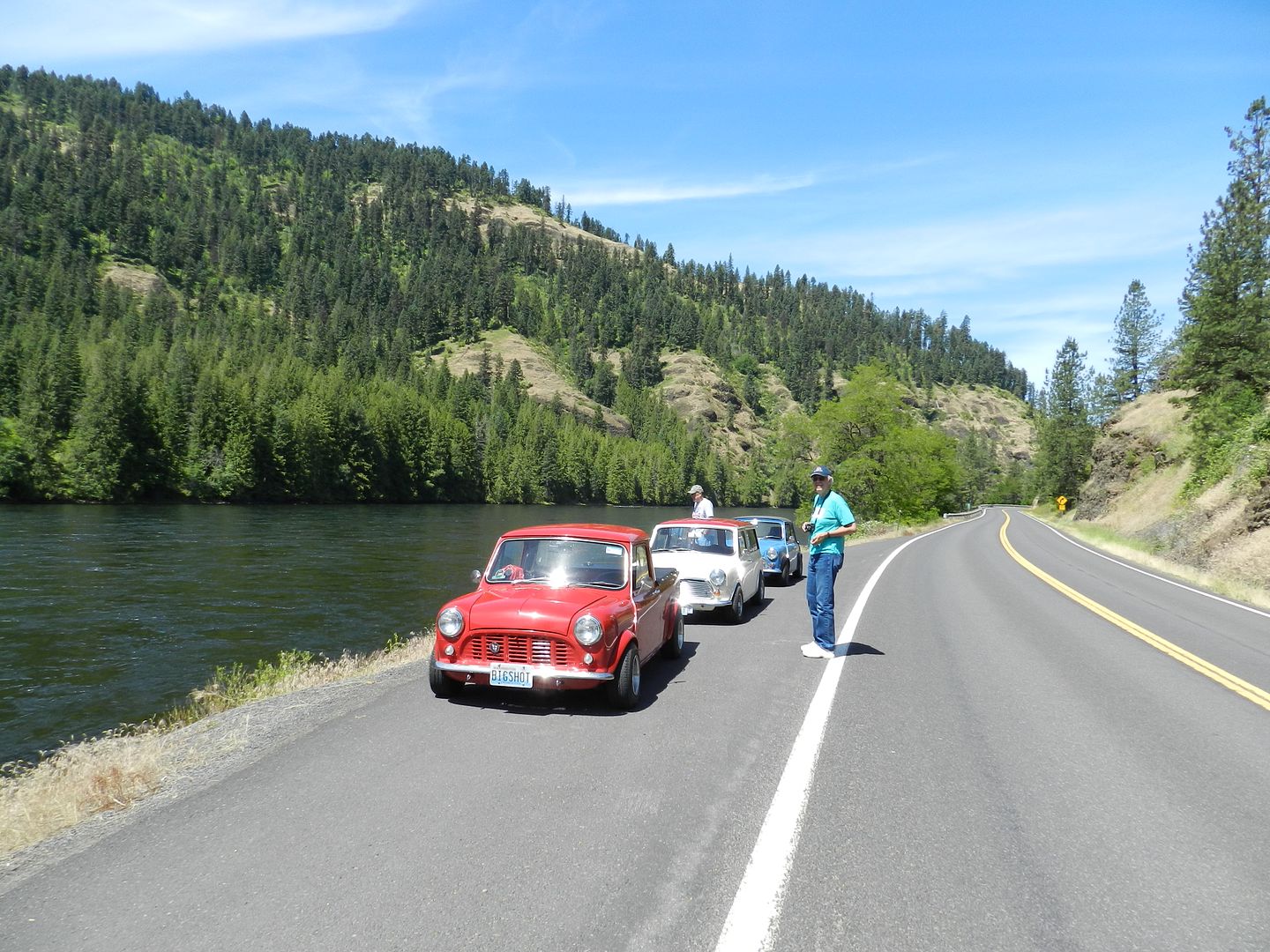 Highway 12 from Lewiston to Missoula was another unearthly drive. It's something like 100 miles of twisting, contorting pavement paralleling the Clearwater River. For most of those miles, we were the only ones on the road. Absolutely beautiful.
More in a minute.
Dan