OK, this is probably pretty desperate, but maybe a little cool at the same time.
Last May, when Jerry Miller and I passed through Castle Rock on our way back from Skamokawa, we drove right in front of a Bing (Microsoft) van with one of those super-wide-angle cameras mounted on top. Since then, I've occasionally checked that intersection on Bing's map, using the utility that's just like Google's Street View. Tonight I placed myself at the north side of the intersection of A Street SW and 2nd Avenue SW in Castle Rock, and when I looked east, this is what I saw.
I'll move in a little.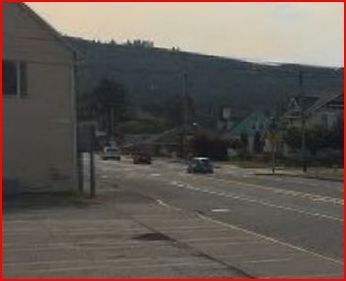 That's my pickup leading Jerry's car through town. I'd hoped, of course, for a little clearer view -- we were right in front of that Bingmobile -- but I've tried repositioning the view to get a little earlier capture with no luck. Sometime if you have a little ambition and a few minutes to waste, see if you can get a closer look at our cars. We were almost famous!
Dan